$100
Save over 50% on this digital bundle
3 Digital Training Videos
+
46 Digital Brain Fitness cards
*IMPORTANT* after completing your PayPal purchase, it is necessary to click the link 'return to Jill Hewlett Inc', then enter your email to receive your access code & video link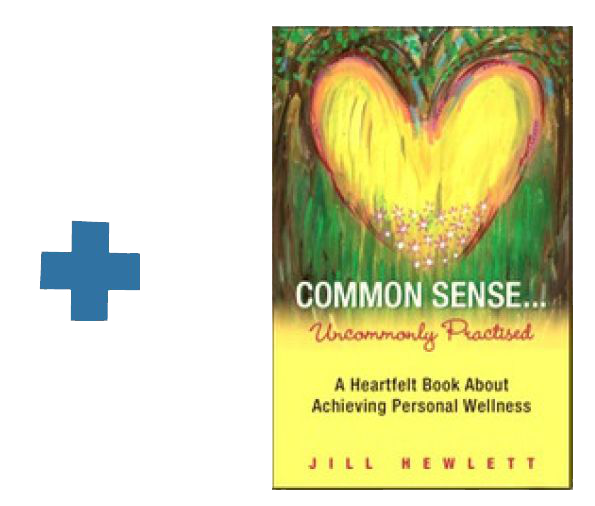 FREE BONUS!
Purchase this bundle and you'll also receive
a digital copy of my book:
Common Sense... Uncommonly Practised
Get $110 in value now for only $49 CAD.
You can create a Fit Brain and a Fit Life!
Maximize Your Brain Power

In the classroom, at work and
in daily life
Fit Brain = Fit Life!

Mental health, wellness and
cognitive development
Brain Sculpting for Business

Change, innovation & performance enhancement
That's over 5 hours of valuable video content that will leave you with tools to transform you life!
46 digital cards, each with a unique Brain Activation strategy -

Based on neuroscience and the brain's plasticity, these strategies will complement and enhance your personal and professional goals and development.
BONUS: Digital download of Common Sense... Uncommonly Practised -

A heartfelt book about achieving personal wellness, with a wealth of real-life lessons
*IMPORTANT* AFTER COMPLETING YOUR PAYPAL PURCHASE, IT IS NECESSARY TO CLICK THE LINK 'RETURN TO JILL HEWLETT INC', THEN ENTER YOUR EMAIL TO RECEIVE YOUR ACCESS CODE & VIDEO LINK
What is the purpose of these tools?
We all have a brain, but many people don't know how it works, how to care for it or maximize its functioning. Thanks to breakthroughs in neuroscience, there is so much current and useful information available. The trick is having access to it in an easy to understand way, and then know how to apply it to everyday needs, goals and purposes. This is what Brain Fitness tools and strategies are for!
Who can benefit from these educational resources?
People of all ages, and stages of life, ranging from teachers to parents, corporate employees to managers, and those who are in leadership positions, as well as, personal support workers, therapists, emergency responders... and anyone interested in investing into their mental health and wellness, or wanting to improve their brain functioning.
Are these resources easy to use?
These resources are extremely user-friendly and can be applied immediately to work, learning and life situations, or for a daily brain tune up!
Will they take much time to understand or put to use?
Not at all! All the strategies are quickly actionable and only take a couple of minutes (or less) to implement.
Will these resources expire?
Nope, they are yours indefinitely! Since investing into our brain is a life-long journey and commitment, they will be useful for years to come.
Are you ready to become the sculptor of your brain and results?
Get your bundle now, exclusive only to attendees of the Brain Fitness webinar.
For only $49, you will save over 50% off the regular bundle price.
Jill Hewlett is a dynamic and interactive trainer who worked with our organization on team building, communication, creativity and stress management. The Brain Gym® exercises were excellent, practical and easy to use in working on the goals of our group. We have been using them daily at work since our session. For those interested in this training go for it! It is informative, practical and applicable in so many situations.

Jenny Galati,

Marketing and Event Coordinator, York University Foundation
The course was an excellent learning opportunity for me. The learning that stands out for me were the "shifts" when we did the Brain Fitness exercises. Jill is a lovely person with a fountain of information. My favourite aspect was practicing the movements. It has changed my life already! I can feel the changes; I am more confident and not always feeling like I am running around like a chicken with my head cut off. The one day I didn't do the Brain Fitness activities in the morning before work, I was a beast! As soon as I got to work and did some activities, I felt much calmer and able to face my day.

J. Roy,

Recreationist, City of Toronto
I thought the Brain Fitness session was awesome - especially the hands on stuff that can easily be put into practice and works. I learned a lot and appreciated the practical applications of how to make new neuro-connections. Jill Hewlett has amazing presentation skills! Now I'm keeping my brain healthy and energized by using the Brain Fitness exercises that I took away from the presentation,at work and at home when I need them! Brain Fitness activities are a quick way to make positive shifts and use when needed.

Rebecca Bailey,

Health & Wellness Coordinator, Hamilton Police Service